Z-Line Tire Rack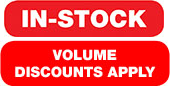 FOB - Midwest Warehouse

All model numbers in Red feature Quick Ship!

These Z-Line Tire Racks conveniently store tires for easy access and display. Uses vertical height to maximize available floor space. Available in a single or double entry unit.

Assembly is required.
If you need a large quantity of this product, call us at 1-800-338-1382 for additional bulk discounts!