I-Series Galvanized Steel Pallet Racks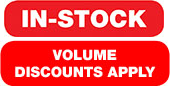 F.O.B. Oregon Warehouse

Galvanized Steel Pallet Racks are designed to work in harsh environments.

How to Select Pallet Rack
1. Frame Capacity: Add total weight of all pallets for each bay (excludes pallets on floor)
2. Height: Measure all verticals including height of pallet, pallet load, beam height, add 4" clearance between top of load and bottom of beam above. Top beam should be a minimum of 6" less than maximum lifting height of your forklift.
3. Depth: Pallet should overhang frame by 3" front and back. (48" pallet, use 42" deep frame). Deduct 6" from pallet depth. Pallets Need to be in good condition.
4. Width: Measure width of pallet, add a minimum of 3" pallet to frame clearance and 4" between pallets to determine correct beam length. Each pair of beams must support weight of pallets per level. Add-on sections require only one additional frame and required number of beams.

Features:
Highly resistant to rust
Stable, safe and economical solution that will last for years to come
Durability will surpass standard powder coating finishes
Heavy duty footplates - 5" x 8" x 3/8" with Four Holes

Used in the following industries:
Bakeries
Bottled Water Plants
Breweries
Building Materials
Cat and Dog Food Plants
Cheese Factories
Chemical Warehouses
Coastal Warehouse
Cold Storage Warehouses
Construction Sites
Deli Warehouses
Feed Stores
Fertilizer Plants
Food Companies
Food Service Companies
Food Storage
Freezer Plants
Fruit Companies
Fruit Packers
Garden Companies
Greenhouses
Grocery/Food Wholesalers
Home Improvement Stores
Hospital Warehouses
Inside Coolers
Laboratories
Lumber Yards
Meat Packers
Mining Companies
Nursery / Plant Warehouses
Outdoor Lumber Yards
Outdoor Storage Applications
Pharmaceutical Warehouses
Petroleum Products
Produce Companies
Poultry Processing Plants
Rental Yards
Seafood Warehouses
Seafood Processing Plants
Soft Drink Companies
Wineries
If you need a large quantity of this product, call us at 1-800-338-1382 for additional bulk discounts!