Bulk Shelving Racks Without Decking - 84 Inches High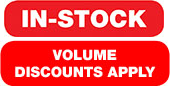 F.O.B. West Coast Warehouse


Number of Shelves - 3B
Shelf Width - 72"
Shelf Depth - 18"
Unit Height - 84"
Shelf Deck Support Included (1 per shelf) - H
Channel Beam Included - C
(DECKING NOT INCLUDED WITH THESE MODELS)

Call for special volume pricing!
Heavy-duty steel construction.
Easy installation thanks to Series 200 boltless design – no shelf clips required.
Accessible from all four sides.
Shelves can be adjusted every 1-1/2".
Each unit comes complete with uprights, left to right beams and front to back supports — whether it be shelving or bulk storage requirements.
1-1/2"x1-1/2" 14-gauge posts.

40 sizes and styles available.
Additional heights also available: 6', 8', 9', 10', 12' & 15'.

We can build almost any unit from standard components.
Perfect For:
Antique Dealers
Archive Record
Auto Parts
Apartments
Church Supply
Cleaning Supplies
Coffee Shops
Condominiums
Construction Supply
Department Stores
Display
Farm Stores
Feed Dealers
Furniture Stores
Garden Stores
Paper Goods
Hobby Stores
Linen Supply
Office Supply
Paint Stores
Plumbing Stores
Electric Supply Stores
Printing Companies
Safety Supply
Tire Stores
If you need a large quantity of this product, call us at 1-800-338-1382 for additional bulk discounts!